Description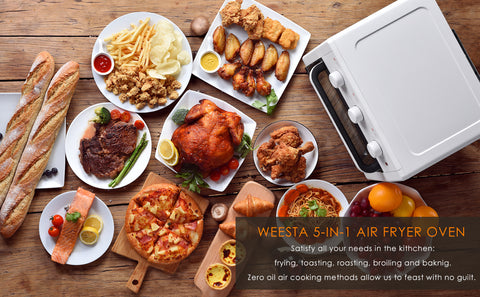 ---
---
Product Feature
Inner Tank Size: 19 QT - 11.4 (Width) * 10.2 (Depth) * 9.8 (Height) inches

The WEESTA air fryer oven is able to cook: a 6 lbs. whole chicken, a 9-inch pizza, 1 lb. frozen fries, 2 lbs. chicken wings, 4 slices of bread

"What A Time Saver!" - Your dinner will be ready 50% faster than using the conventional oven without heating up the whole kitchen.

"No Flipping, No Preheating" - WEESTA Air fryer toaster oven applies Cubic Hot Wind Circulation Technology. You don't need to flip your food or toss the air fry basket in the middle of cooking.
Product Description
Let's Fry Away!
IMPORTANT NOTICE:
The crumb tray is pre-installed in the drawer-like part at the bottom of the oven. We fixed it with some pieces of tapes to avoid accidental falling or damage during transportation. After receiving the oven, please slightly lift up the front side of the oven to remove the tapes and take out the crumb tray!
Before leaving the factory, all the heating elements were coated with protective oil to prevent oxidation during transportation and storage, which may seriouly affect oven's working performance.

 

Before the first use, please turn the oven to the highest temperature and keep it working for at least 10 to 15 minutes to evaporate and remove the protective oil. You may smell the protective oil but don't worry, it is completely harmless to you or your family.
LESS IS MORE - Focus on the real important things
Weesta, founded in 1993, is an international enterprise integrating R&D, design, production and marketing focusing in electric oven. We now have more than 1500 employees, 550,000 ft2 factory and 4,500,000 annual production scale.
"Functionality, Reliability and Durability"
In order to get a chef-d'oeuvre, we adhere to use mechanical control rather than digital control to reduce software failures, increase cooking flexibility and ensure product's durability. We applied far-infrared heating technology to our products to make it preheat faster and reduce cooking time by more than 50%. The irregular inner tank design allows far infrared rays to be reflected in any corner inside the oven, ensuring that the food can be evenly heated. The double-glazed door design ensures that customers will not be burned when accidentally touched.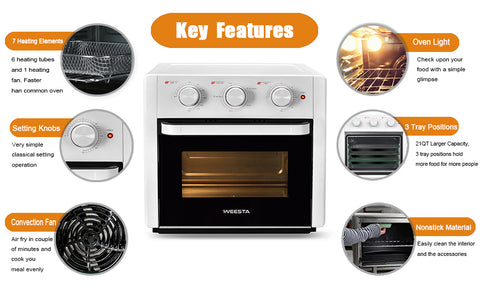 Size: 15.1 (Width) * 14.3 (Depth) * 14.1 (Height) inches
Function:
Air Fry: 4 upper tubes + hot wind

Air Roast: 2 upper tubes + hot wind

Toast: 2 upper tubes + 2 lower tubes

Broil: 4 upper tubes

Bake: 2 lower tubes
Temperature Range: Room Temperature to 450°F
Timer Range: 0 to 60 minutes
Temperature Control: Mechanical Dial
Weight: 21lb
Volume: 21QT
Rated Voltage: 120V/60Hz
Power: 1300W
Accessories Included: 1*Oven Rack, 1*Baking Pan, 1*Air Fryer Basket, 1*Oven Gripper, 1*Crumb Tray (pre-installed)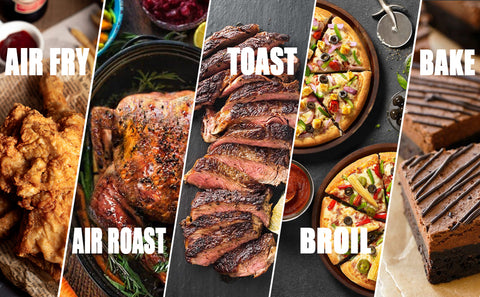 Simple to Use
As a daily used kitchen gadget, it's very important that it is simple to use, easy to clean and works stably. Have you ever counted how many times you need to press the buttons when using an air fryer with an confusing electronic control panel? Choose the function, change the temperature, set the timer, shake the food during the cooking process......
Traditional air fryers are "DEAD". They have smaller capacity; the electronic operation panel seems easy but in fact it is much more complicated to use; we are not able to check the food during the cooking process; the heat comes only from the top so we need to shake the food; the plastic shell is very hard to clean when it's oily; it consumes as much as energy than an oven but it cooks much less food......
As the latest generation air frying product, WEESTA air fryer toaster oven reolves all these problems: 21 quart family size capacity; simple mechanical control dials are much more comprehensible everyone, especially the seniors; we can check on the food any time we want through the double glass door; the heat comes top and bottom and the air has room to circulate in the inner tank to make evenly cooked food; cold-formed stell shell is very easy to clean and fingerprint resistant; we applied our Inner Tank Expansion Technology so to heat up the same volume of space to the same temperature in the same time period, WEESTA air fryer oven only need 1300W of power......
What are you waiting for? Put your toaster, your countertop oven and your fryer in the garage and take a WEESTA home with you! :D
What We Guarantee
Free Shipping from US stock.
30 days return and refund.
24x7 email service at cs@enegitech.com