Description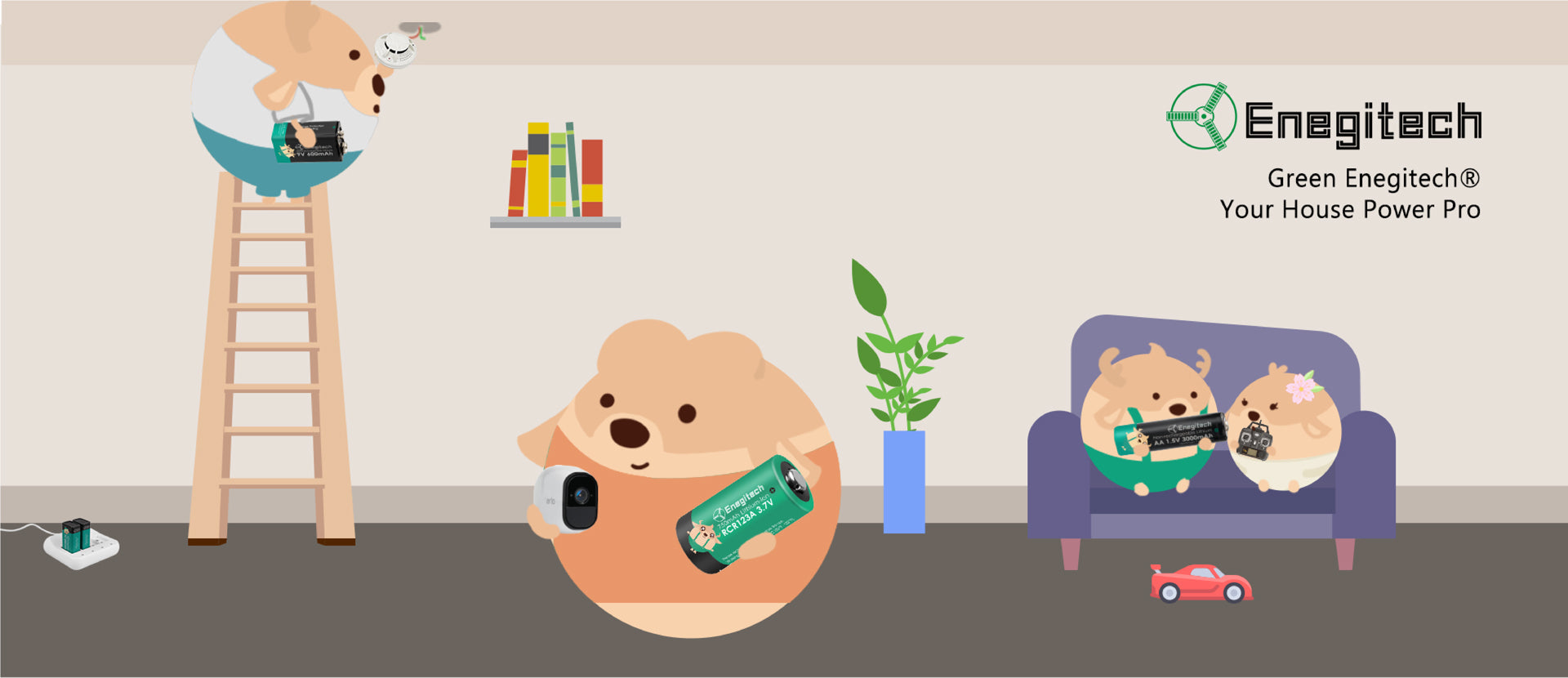 | | |
| --- | --- |
| Battery type: | 9V Rechargeable Lithium |
| capacity: | 9V, 600mAh |
| Package includes: | 4 x 9V lithium batteries |

RECHARGEABLE: This 9 volt battery could be recharged up to 1200 times which save money and environment. Note: 9V is the type of battery, its voltage will be 8.2V-8.4V after fully charged

10-YEAR SELF-DISCHARGE: It is made of improved IC that makes it low self-discharge. It will still maintain 75% of capacity after 3 year of non-use. Note: Rechargeable 9v batteries contain about half power in consideration of Transportation Safety Rules. Please recharge the batteries before storage or first use.

HIGH CAPACITY LI-ION TECHNOLOGY: Use the latest lithium-ion technology, no memory effect, non-toxic, to improve the working efficiency and safety. High capacity up to 600mAh which is 3x longer lasting than disposable 9V batteries, more affordable and more convenient

WIDE APPLICATIONS: Recommended for smoke alarms, metal detector, wireless microphone, toy, guitar, professional audio, infrared thermometer, laser thermometer, medical devices etc.

【

Upgraded

】

Enegitech is a harmonic combination of "Anna, Jim and Tyke" who are elk family. These batteries are upgraded with new look and better performance, you can't stop loving in them
Enegitech Upgraded 9V Rechargeable Lithium-ion 600mAh Batteries - 4 Pack

Enegitech utilizes the most advanced lithium-ion technology to provide the highest quality and best performance 9V batteries to you.
With the low self-discharge feature, they will not drain as fast as other NiMH battery/Alkaline battery if the batteries are not being used for a long time.

These batteries are built-in smart IC to protect your batteries and devices from over-charging, over-discharge, short-circuit, reverse polarity and over-heated, you can use them with no hassle.

Specifications:
Battery Type: 9V
Voltage: 8.4V
Capacity: 600mAh * 4 Pack
Chemistry: Li-ion
Life Cycles: >1200 recharged time
Working Temperature: -20℃-60℃/ -4℉-140℉

Notes:
! 9V Li-ion battery voltage range is 6V-8.4V.
! Please recharge them before first use or storage.
! Please use lithium-ion battery charger to charge them.

Package Included:
4 * 9V Li-ion Batteries
Charger with LED Indicator  - EHC001
Good Match: This 9V battery charger is perfectly working with Enegitech rechargeable lithium-ion 9Volt batteries ASIN B07SS2KZ84. Note: NOT compatible with NON-RECHARGEABLE batteries or Ni-Mh/Alkaline 9V batteries. (Batteries are NOT included)

Fast Battery Charger: 5V/2A input and 800mA Max output(200mA *4), quickly fully charged the 9V batteries within 2-3 hours. Built-in Micro USB port, easy to connect by power bank or adapter

4 slots battery charger: can charge up to 4pcs 9V Rechargeable lithium-ion batteries at the same time or one by one separately. A good charger for your smoke detectors or fire alarms

Advanced safety protection: built-in safety timer to stop charging after 8 hours. Adopts MCU control technology, can provide constant current and voltage. When the voltage reach up to 8. 1V, It will automatically go into trickle charge to maintain the life of the battery

Power indicator: each charging port has an independent indicator light to tell you Its charging status. (Red: charging, Green: fully charged) meanwhile, it can help to trouble-shooting if it flashes red light
9V batteries are most commonly used to power smoke alarms, multi meters, metal detectors, professional audio equipment, toys, guitars, medical devices, wireless personal monitors, wireless microphones, and more. Charge your 9V batteries by this Enegitech 9V Lithium-Ion battery charger to continuously keep your household devices powered!
Specifications: 
| | | | |
| --- | --- | --- | --- |
| Input: | DC 5V/2a | Size: | 100*(w)90*(h)32. 5 mm |
| Output:  | DC 8. 4V 200ma*4 max | Weight:  | 100g |
| No load power consumption: | 1W Max | Working temperature: | |
| Full load power consumption: | 6. 72W Max | Surface temperature of charger: | ≤50℃  |
| Battery charger rate: | ≥80% | Surface temperature of batteries: | ≤45℃ |

Suitable for Most Devices:
Smoke detector, microphone, gas meter, lighting fixture, infrared thermometer, laser thermometer, stud finder, wall scanner, water meter, mini max XP, mini photo printer, camera, patrol sensor device, vital signs monitor, optical equipment, medical device, one touch horizon etc.



Notes:
Please use the charger within the temperature between -20℃-50℃.

The charger can only charge 9V Lithium-Ion rechargeable batteries. Do not allow to charge NiMH, NiCad, alkaline batteries or non-rechargeable batteries. 

Please cut off the power supply when the batteries are fully charged. 

The batteries and power adapter are not included.



Free Shipping from US stock.
30 days return and refund.
24x7 email service at cs@enegitech.com