If you have trees on your property, you need to maintain them to keep them looking their best. Ladders and chainsaws are a terrible idea. Pole saws are the ideal solution for dealing with tree limbs and all kinds of trimming. Instead of always calling an arborist or a professional landscaper, you can save money by pruning and trimming on your own.
Pole saws are available in various types and designs, pole length, saw blade length, power size and type. Buying a pole saw may seem like a easy matter, but to get the most out of your investment, you need to be smart about your choices.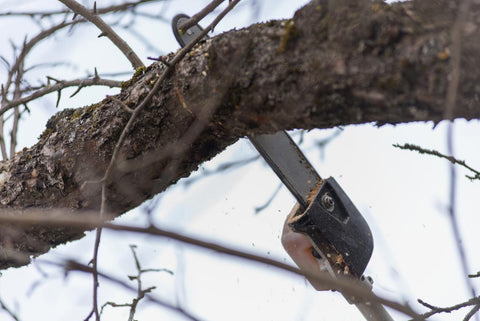 Pole Length (Maximum Extension)
The whole point of using a pole saw is to be able to reach tree branches. Pole length is a feature you will see most variance in when shopping for your new pole saw.
Poles come in different lengths and can be constructed from steel or fiberglass. Manual pole saws can range from 7-15 ft. long, sometimes even more. Most recent models have telescoping poles with adjustable length that you can tune to your liking and lock it back in place. Extending poles are a favorite as they enable you to work on trees of varying heights.
Manufacturers always advertise the max reach, which represents how far the pole saw will reach into a tree while you hold it. This can be a little misleading. When you look at the poles closely, you will see a "maximum reach" sign. This is NOT the pole's maximum length. The maximum reach on a pole saw incorporates both your arm length and the pole's max length. Most models have 5ft. extra to the max pole length. Ensure the pole is at least 7ft. more if you opt for powered models.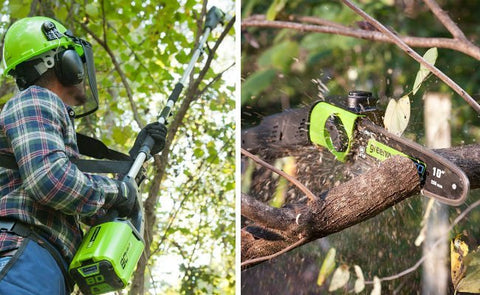 Cutting Bar Length (Blade Size)
The length of the cutting blade is another feature to look out for when picking an ideal pole saw for trimming your trees and hedges. Usually expressed in inches, cutting bar length simply refers to the length of the cutting bar. This number determines your pole saw's suitability to cut thick branches. If you opt for a manual pole saw, a longer blade allows you to cut larger branches with less struggle, while also giving you more saw power efficacy with every pass of the blade.
On a powered pole saw, the exposed blade length represents your maximum cutting capacity. If, for instance, you have a 7" saw bar with 6" exposed, you can only saw branches 6" and under with a single pass. As a rule of the thumb, pick a bar length greater than the thickest branches you plan to cut. In general, try to go for powered pole saws with at least 8" of total bar length. Longer cutting bars are effective for the thickest branches. If you usually deal with thin branches, opt for a shorter bar.
Weight Of The Pole Saw (Portability)
Another vital consideration that most homeowners ignore is the weight of the pole saw. You can easily move most pole saws from one point to the other, but some models are more portable than others. Pole saws can prove very exhausting to work with, especially if you plan to use them for long. Even though weight is a sign of stability and excellent artisanship, you need a pole saw that is easily controllable, lightweight and handles safely.
Gas-powered models may be powerful and more efficient, but they are heavy. Resist the urge to buy heavy pole saws no matter how budget-friendly or feature-packed they are. If you have never seen the doors of a gym, you are better off with electric pole saws that can be easily moved around.
Noise
If you live in a quiet neighborhood, you might want to avoid gas-powered pole saws as they produce most noise. Electric and cordless models are relatively quieter, and you will less likely disturb your neighbors.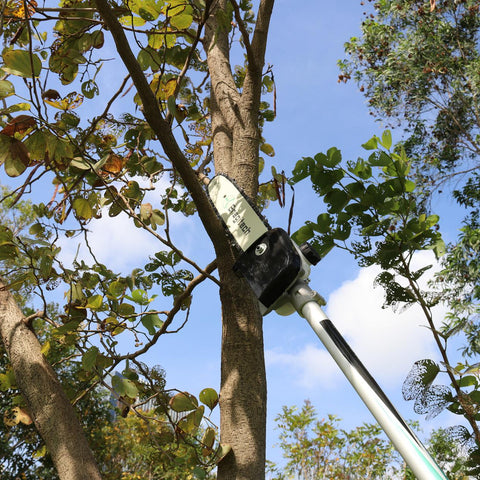 Maintenance
You need to look at how often you will be using the saw and the amount of maintenance your pole saw needs. Generally, gas-powered pole saws require more attention than electric and battery powered versions. You need to carry out routine tasks like changing air filters to keep them in top working order. If you plan to use the pole saw on a regular basis, go for something more long lasting. For occasional home use, cordless and electric models are suitable. Electric saws also need less looking after, as you only need to check that the chain is kept sharp.
Enegitech pole saw attachment, use with Enegitech Power Head ZMDG5122P. 58V high volts provide you with strong power, allowing you to complete the trimming work efficiently. Weight only 10.6 lbs (with power head), you can use it easily. Enegitech Gardening Cordless Power Tools will be on market soon! Let's look forward to it together!