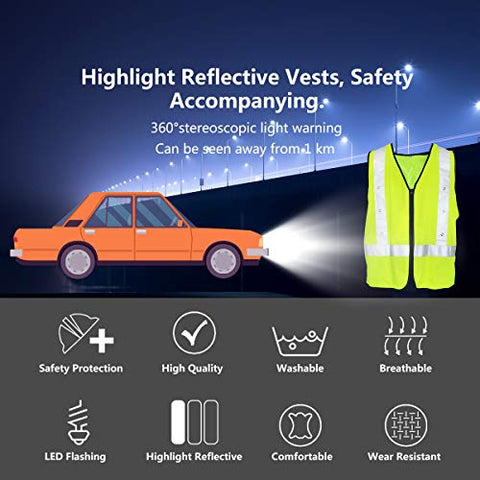 How can workers working on highways and construction sites protect themselves better? Wearing this LED light safety vest with reflective stripes can help protect you further.
This reflective clothing is suitable for construction personnel to ride under high visibility conditions, flashing reflective clothing is suitable for working, cycling, walking, riding motorcycles.
Its performance has the following points:
This reflective safety vest can be used for a long time because it is woven from high-density hollow polyester webbing. Transparent resin fiber light guide with high fiber light guide. The fiber surface adopts special processing technology of horizontal pressure processing, which promotes the fiber to be brighter and more beautiful in appearance.
At night, it has luminous and reflective light. The high-visibility reflective strip and dual optical fiber can not only reflect, but also control the dual lighting strip by clicking the battery button to change the lighting setting. It provides three modes, constant light, slow flashing, fast flicker.
This is a rechargeable battery, there is no trouble to replace the battery, and there is no additional cost. Charging once every 2-3 hours, the rechargeable battery can work 9-11 hours of lighting time.
You can be easily seen in the dark, which greatly enhances your safety. It is very suitable for running, walking, cycling, bicycle safety, motorcycle, dog, skateboard or highway emergency.
This is a safety vest with 12 LEDs. It is very lightweight and powered by a USB rechargeable battery box. It is easy to touch the switch button when wearing, which is very convenient to use.
This is a multipurpose vest
Bright reflective
Our fluorescent yellow safety vest allows you to be seen and not hurt. Reflective strips included around the front and back panels of the vest also have LEDs.
Light as a feather
In addition to being breathable, our vests are super light. You can easily put it on a sweater or an existing coat without adding volume. It is a one-size-fitting vest, you don't have to worry about it being too big or too small.